SHISEIDO
Modern Matte Powder Lipstick
Bestsellers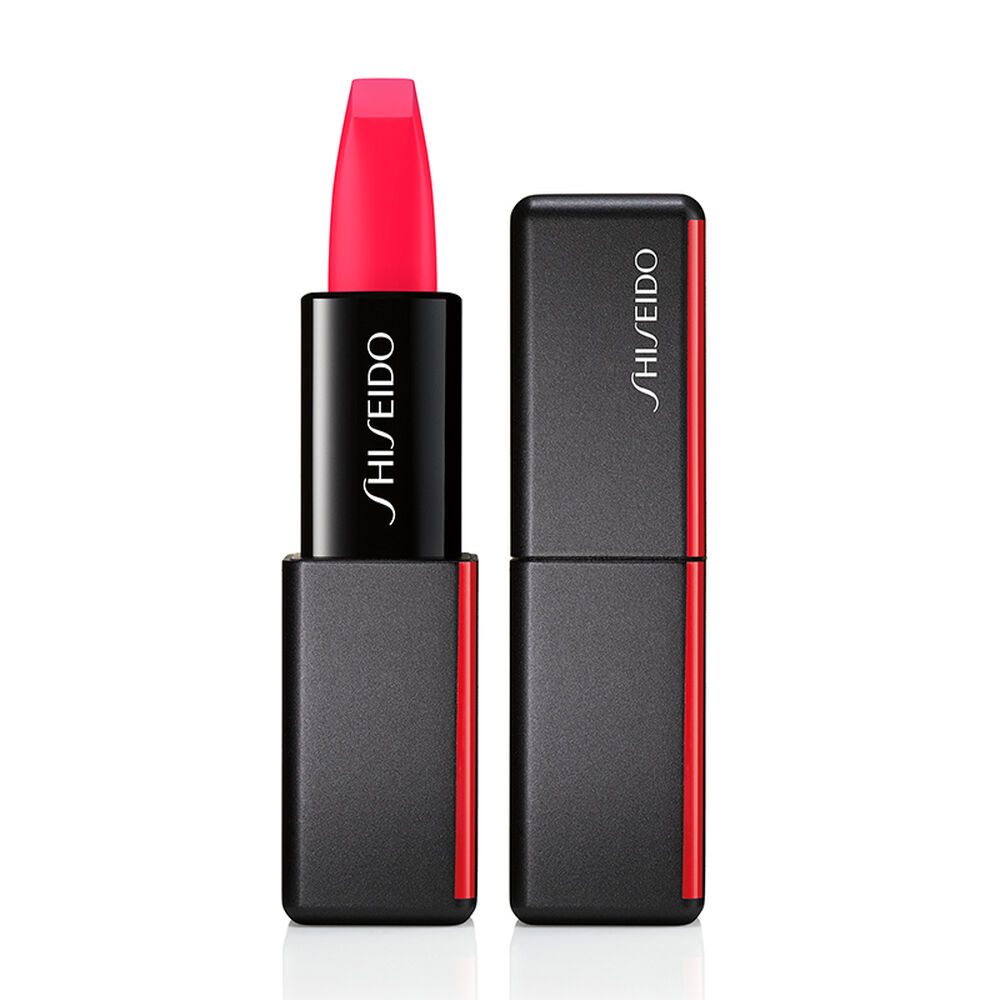 Afbeelding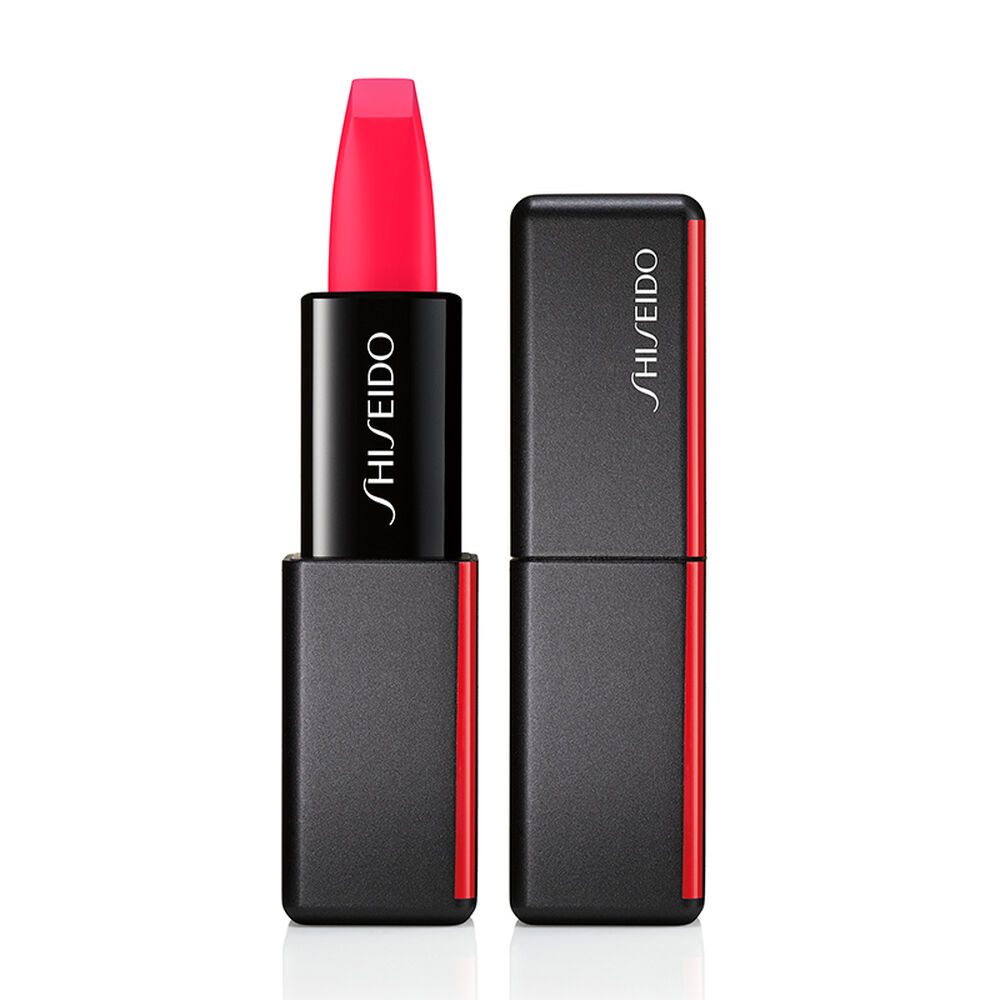 Zoom
SHISEIDO
Modern Matte Powder Lipstick
Bestsellers
Volledig dekkende, matte lipstick. Gewichtloos, langhoudend en hydraterend.
Meer
Details
/be/nl/shiseido-modern-matte-powder-lipstick-729238147898.html
Volledig dekkende, matte lipstick. Gewichtloos, langhoudend en hydraterend.
Meer
Overzicht
Volledig dekkende,
matte lipstick
Deze niet-uitdrogende formule geeft een matte, volledig dekkende kleur die gewichtloos aanvoelt en de lippen een zachte poederachtige finish geeft. Een unieke mix van wassen en oliën versmelten en transformeren tot een ultradun, vederlicht poeder, met bolvormige pigmenten die over de lippen glijden om oneffenheden te vervagen.
Verkrijgbaar in 31 kleuren, geïnspireerd door Tokyo's bruisende nachtleven, biedt deze statement-lipstick acht uur lang een rijke, fluweelachtige kleur.
Dermatologisch getest.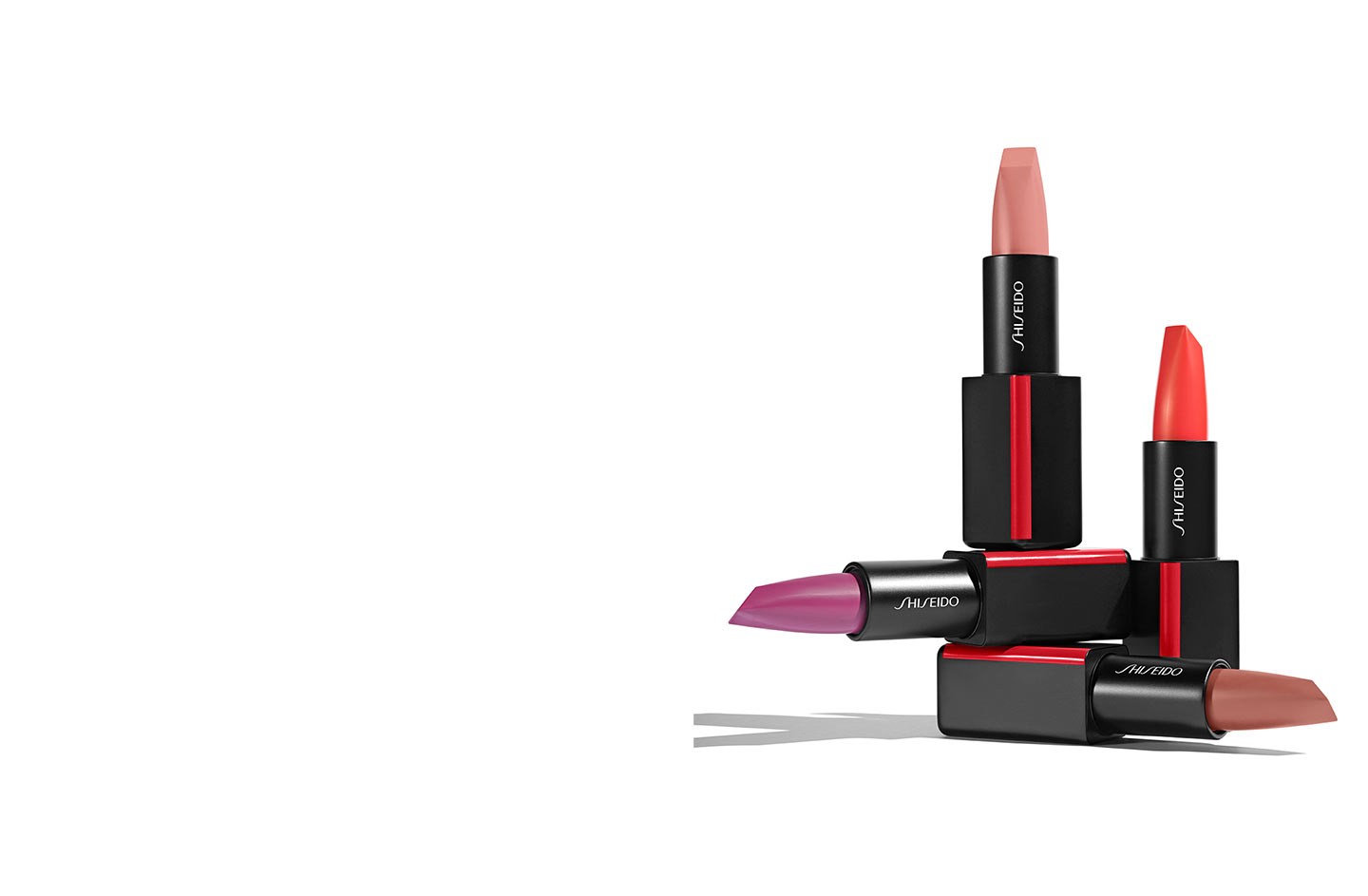 Belangrijkste ingrediënten
Tips + Tutorials
GEBRUIK: ModernMatte Powder Lipstick
Statement lippen in uitgesproken, matte kleuren.
Avis
Modern Matte Powder Lipstick
heeft als beoordeling van de
5
door
563
.
Rated

4

van de

5
door
Patricia
uit
Love the color!
I've been using Shiseido even back in my uni days, and I was so happy to receive a complimentary sample of their latest product from Influenster. The shade of the sample I received is Exotic Red, and the first thing I noticed is how it looks so good on my yellow-toned complexion. It swipes easily on my lips, and one swipe is enough to put color on your face already. Only two drawbacks (hence the 4 star rating): 1) while it tries to be moisturizing, it made my dry lips flakey; and 2) it smudges like crazy on everything and staying power is as expected for most matte lipsticks. Overall though, I would want to purchase other shades of this line!
Datum plaatsing: 2018-09-20
Rated

4

van de

5
door
ocswaynee
uit
Beautiful red
This lipstick is definitely one to consider! Mine unfortunately arrived broken so I didn't quite get to have the "full" lipstick application experience. I dug up a lip brush and applied. The formula starts out creamy and quickly becomes a more powdery matte finish, without feeling like it's drying out my lips too terribly. I didn't have much wear with the lipstick by itself so I wound up applying it on top of a liquid lipstick to make sure the color wouldn't budge or leave my lips too quickly. After that it lasted all day long with minimal need to touch up. I received this product complimentary from Influenster for testing and review purposes.
Datum plaatsing: 2018-10-21
Rated

5

van de

5
door
Anoniem
uit
Pretty good
I got this product from Influenster for free for testing purposes. This review is my real opinion, and honestly its a good light weight lipstick. Its creamy and goes on like a dream. The shape of the actual stick has pointed edges which allow you to get a crisp ling without smuges. Once its on it doesnt go anywhere, unless you touch it or rub it of course. Only negative side to it is if you show a lot of expression using your mouth or bite your lips on anything you run the risk of it getting on your teeth oretty bad, and red lipstick on teeth is NOT cute!! So beware of that. Otherwise honestly i feel like its a good quality lipstick.
Datum plaatsing: 2018-09-05
Rated

5

van de

5
door
Lissy
uit
A new favorite!
I got this a month ago and INSTANTLY fell in love. I love rich blue-reds and the color Exotic Red is the perfect addition to my collection. The formula is long wearing, and not drying like many long wear formulas. I love the design of the packaging, the simple red stripe. The shape of the stick itself was unique, the squared off end as opposed to the classic sharp tipped lipstick. While i liked the aesthetic of that, it made precise motions more difficult. I like to draw my cupids bow in a sharp peaks and that was a challenge. However the rest of the lipstick was amazing so im willing to forget that. I received this product for free for reviews and testing.
Datum plaatsing: 2018-10-26
Rated

3

van de

5
door
Jacqcxo
uit
Love the application!
I received this complimentary in exchange for honest review. The color is a perfect fall red that complements all skin tones! The chiseled applicator is not only unique, but also allows for a precision application. It applies silky smooth, but I almost felt as if it could have had a slight my drier finish given that it is a matte formula! I actually got a better feel in finish after attempting to wipe off my initial application! The color still stayed nice and vibrant and I was able to achieve a more desirable matte finish! It is a long lasting formula, which is also a win! I do recommend pairing with a corresponding lip liner for a nice, clean, finished look.
Datum plaatsing: 2018-10-27
Rated

5

van de

5
door
Heather24
uit
Long lasting
This lipstick is a gorgeous shade of red. I was pleasantly surprised that not only was it long lasting, but it did not instantly dry out my lips or flake like a lot of lipsticks do to me. I have dry lips that always need chapstick, so lipstick is usually a nightmare for me. However this product dried on my lips in a way that made it last throughout an entire meal and drinking from a cup without a straw (it didn't even leave a mark on the glass!) yet my lips didn't look dried out. I am so happy with this product. So far it is the best quality lipstick I have ever tried! I got this product for free for testing purposes.
Datum plaatsing: 2018-09-26
Rated

4

van de

5
door
Lobotica
uit
Such a pigmented lip!
The new ModernMatte Powder lipstick in the shade Exotic Red from @myshiseido did not disappoint! The color payoff is awesome, it's incredibly pigmented, creamy, super lightweight and easy to apply because of it's angular/square shape. Plus it's a mini so I can even fit it in my wallet. It is a stick so it doesn't dry down like a liquid lip and probably won't hold up through a meal but still stays put for hours. You really can't beat that bold color though. I received this product for free for reviewing purposes but you can find it at @sephora #visiblefeelsinvisible #modernmattemini #complimentary #contest #myshiseido
Datum plaatsing: 2018-10-04
Rated

4

van de

5
door
Megs
uit
Bright & Bold
I received this as a sample product to test out from @influenster I was super excited because I love this brand and already use a lot of skin care products from them and have been itching to try some of their beauty products. I have to say this red is BRIGHT! It's actually a little too much for me! I love a bright bold lip every now and then, but this is definitely one I wouldn't reach for all the time. It goes on nice and smooth felt hydrating, I did feel like I had to swipe a couple times to get more opacity. I would actually like to try some of the other shades, and it doesn't last as long as I'd like. The minute you dab or wipe your mouth most of the color comes off.
Datum plaatsing: 2018-09-17
bvseo_sdk, dw_cartridge, 16.1.1, p_sdk_3.2.0
CLOUD, getContent, 101ms
reviews, product